| | |
| --- | --- |
| | |
| Subaru Ascent | Toyota Highlander |
Comparing the 2023 Subaru Ascent and the 2023 Toyota Highlander to Help You Decide Which is the Right Choice
The current generation of SUVs makes it incredibly difficult to decide which is the best choice for your Hoover driveway. The most popular options are capable, dependable, and exciting, and our team is here to help you narrow your search to the perfect one for your driveway. We compare top choices like the 2023 Subaru Ascent and the 2023 Toyota Highlander.
The 2023 Subaru Ascent highlights the major benefits of buying a Subaru. The litany of standard and available features can give you everything needed for your time of ownership. Prioritizing interior comfort, innovative features, and inspiring confidence, it makes sense to have the 2023 Subaru Ascent in the running for your next vehicle.
Birmingham drivers looking for adventure might also consider the 2023 Toyota Highlander. Its reputation for having everything you need for a weekend camping, fishing, or hiking trip would easily put the 2023 Highlander at the top of your list, but its reputation might not be enough to distinguish it from the 2023 Ascent. Our team has built a comprehensive look at each model to ensure you love the one you choose.
We've read press releases, manufacturer pages, and independent reviews to compare features and options drivers love about each model. Looking at our comparison will save you time while searching for your next vehicle, ensuring you only need to look in one place before scheduling your test drive. We encourage you to read through the 2023 Ascent and the 2023 Highlander comparison to feel confident in the SUV you choose.
Feel free to contact our experts with any questions about buying a new SUV. Our goal is to get you into the right vehicle for your lifestyle, and we will happily walk you through each option until you feel confident whenever you drive your new vehicle.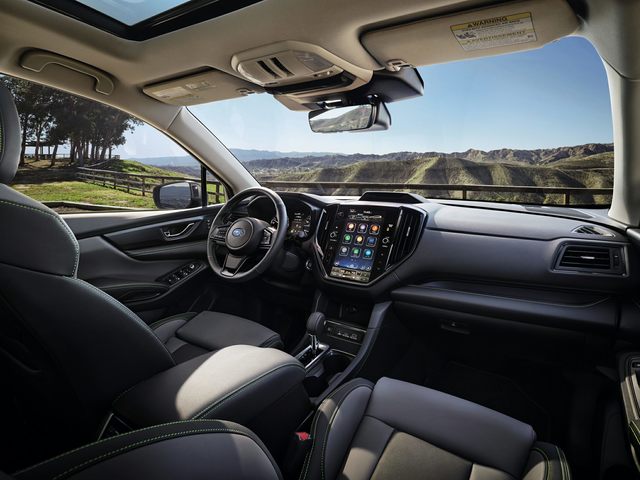 2023 Subaru Ascent vs 2023 Toyota Highlander
If you want a more attractive starting price, the 2023 Subaru Ascent is a better choice than the 2023 Toyota Highlander.
The 2023 Toyota Highlander makes you pay more to include all-wheel drive, but the 2023 Subaru Ascent has it as a standard feature to ensure you always maintain the best traction and control.
There is only an 8.0-inch screen standard for the 2023 Highlander, while the 2023 Ascent comes equipped on the 2023 Subaru Ascent.
Tri-zone automatic climate control will keep you and your passengers comfortable in either model during daily commutes, weekly adventures, or road trips.
A Lineartronic CVT comes equipped on the 2023 Ascent, and the 2023 Toyota Highlander comes with an eight-speed automatic transmission.
There is more passenger space in the 2023 Subaru Ascent than the 2023 Toyota Highlander, making it easier to offer the room your passengers want during their time inside.
The 2023 Subaru Ascent comes equipped with roof rails on every trim, but the 2023 Highlander makes you upgrade over the base trim for roof rails.
There's more legroom for the front seats of the 2023 Ascent than there is for the 2023 Toyota Highlander, making it easy for many drivers to decide which is the right choice.
More ground clearance for the 2023 Subaru Ascent makes it a better choice for tackling any obstacles that stand in your way.
With up to 5,000 pounds of towing, each model helps you bring the gear or equipment you will need during your next outing.