The 2021 Subaru Love Promise Community Commitment Award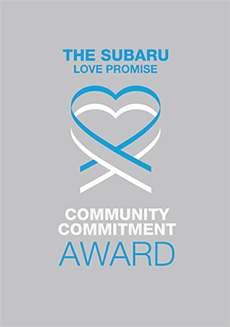 We've been nationally recognized for our dedication to our community and the Subaru Love Promise.
We're honored to receive the 2021 Subaru Love Promise Community Commitment Award. This award nationally recognizes Subaru retailers who are making the world a better place while demonstrating an outstanding commitment to supporting passions and causes in local communities. These efforts are focused in important areas such as the environment, community, health, education, and pets.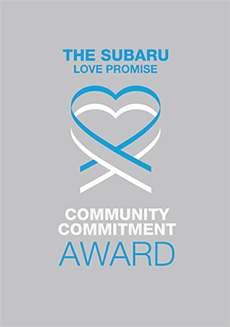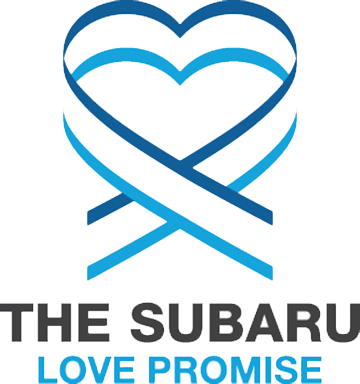 What is the Subaru Love Promise?
Subaru and our retailers believe in making the world a better place and the Subaru Love Promise is our vision of respecting all people. This is our commitment to show love and respect to our customers and to work to make a positive impact in the world.
How is Hendrick Subaru dedicated locally to the Love Promise?
Our Love Promise can be seen in various partnerships with local charities and non-profits. We're grateful for the opportunity, not only to be a part of our community, but to serve it as well.
Greater Birmingham Humane Society
Love Promise Stories from Hendrick Subaru
Subaru and Hendrick Subaru believe in making a positive impact on the communities in which we live and work. We uphold that belief through our Love Promise Community Commitment. Every month, we select inspiring stories from customers and partners from around our area who strive to support our collective commitment and feature them here
Hendrick Subaru Sponsors Art Car for BPAA - Jessica S
Hendrick Subaru Hoover Sponsored (2) Art Cars this past Saturday (Oct 2, 2021) at the 58th Annual Bluff Park Art Show. These vehicles helped customers be shuttled with their art to their vehicles from the fair. This art show started as a way to raise money to expand the Bluff Park Elementary Library and has grown into a nationally recognized and acclaimed art show. Last year due to COVID-19 they were unable to hold this event, like many others. We are happy for this event to be back and look forward to sponsoring for many years to come
---
Hendrick Subaru Loves to Help - Jessica S
The Community Food Bank of Central Alabama has had an increase of need in our community and Hendrick Subaru has showed their continuous support. Hendrick Subaru donated $35,000 and helped provide over 200,000 meals for our neighbors right here in Alabama. We are grateful to serve our community in these trying times.
---
Hendrick Subaru -- Trailblazing for Wishes - Valerie C
Make-A-Wish Alabama is a non-profit organization that grants life-changing wishes to children with critical illnesses. Make-A-Wish currently has nearly 300 kids waiting on a wish in Alabama, and the current COVID-19 pandemic has halted many of our wishes, forcing children who already have been dealt unimaginable realities with even more setbacks. Additionally, the global pandemic forced the chapter to postpone or cancel many events, including the chapter's largest fundraising event, the Trailblaze Challenge, which is typically a 12-week training and fundraising program that culminates with participants hiking 26.3 miles in one day on the Pinhoti Trail. In 2020, the event was postponed from May until November, and Hendrick Subaru came on board as the first-ever presenting sponsor. Over the course of two fall weekends, representatives from Hendrick Subaru attended various events at the Hotel HQ in Birmingham, with Subaru vehicles and much cheering and encouragement for the hikers. At the hotel, hikers heard from wish kid Tiana's parents, Victor and Jeannette, who both also hiked this year. Tiana, 7 years old, has a neurological condition that prevents her from doing most things typical kids her age can do, including eating and playing normally. Her wish is a source of hope for the family and their experience as a family with a wish kid is one of the reasons they decided to get involved with the Trailblaze Challenge program. Later in the weekend, Hendrick Subaru reps and vehicles were on site at the finish line as the participants, including the wish families themselves, crossed the finish line. Their smiles were made even bigger because of Hendrick's unwavering support to help grant wishes this year! Make-A-Wish Alabama is so grateful for the role Hendrick Subaru played in our 2020 Trailblaze Challenge program. This support was a critical piece that allowed us to have the event at all in such a difficult year, and the support contributed to the event's success, raising a total of over $505,000! These funds will help us grant more than 75 wishes next year, including a wish for Tiana!
---
Oak Mountain Missions Blanket Donation - Dianne C
We are so grateful to Subaru and Hendrick Automotive Group for the donation of blankets to Oak Mountain Mission. Sharing these items with our ministry has already been a wonderful blessing to families. With your support, the Mission is able to meet a growing need for assistance. In 2019, families reached out to the Mission 6,908 times for varying forms of support including food, financial assistance, clothing and household items. Now that temperatures are colder, families are struggling to keep warm and they have been so excited to receive the blankets. Thanks to your generosity, Oak Mountain Mission is able to offer assistance that helps the most vulnerable families in our area. In this unprecedented time, you are not only providing much needed help to families, you are also spreading love and hope to those who need our compassion. Thank you for your contribution to the Mission. God bless you for your kindness! Gratefully, Dianne Cesario Assistant Director
---
Hendrick Subaru HOWL-O-WEEN - Lindsey M
Hendrick Subaru Hoover's #MakeADogsDay HOWL-O-WEEN event was a spooky success for the animals at the Greater Birmingham Humane Society! Their donation drive will help feed many pets in need and their continued support saves THOUSANDS of neglected and abused animals. GBHS is incredibly thankful for Hendrick Subaru Hoover's commitment to the mission of GBHS and for Subaru Love Promise that helps continue these efforts.
---
Green Valley Thanks Subaru for Supporting STEM! - Staley M
Green Valley Elementary just wanted to thank Bill and his team at Hendrick Subaru for donating the STEM books to our school! Every classroom teacher was able to get 3-4 new books revolving around the STEM subjects. Any day that we can put new books in our students hands is a good day.
---
Make-A-Wish Alabama & Hendrick Subaru - Erin S
Make-A-Wish Alabama creates life-changing wishes for children with critical illnesses. Since 2012, we have operated independently in Alabama and have granted over 1,000 wishes to deserving children through the support of local donors and supporters. Hendrick Subaru, in their first year of operation in Alabama, contributed $5,000 during the national Subaru Share the Love campaign. Chapter staff was able to visit the Hendrick Subaru team to thank them for their support and celebrate another year of partnership in Alabama. Head over to Hendrick Subaru during the Share the Love campaign and select Make-A-Wish Alabama at check out and Hendrick Subaru will donate $250 to our mission in your name!
---
Above and Beyond - Vivian S
I had wanted to look at the Subaru Outbacks for many years, but the dealership is further away from my home than all other brand dealerships. However, coming home from a trip last month my husband and I decided to stop at Hendrick Subaru in Birmingham, AL and take a look around. I'm glad we did. I found my dream car, a 2020 Outback Touring XT in blue that had just arrived and been offloaded from the truck. I asked to just drive the car around the building and then I bought it. Strange, huh! I have bought a new car every 4-5 years for 30 years and let me tell you, I have never had a buying experience quite like this. Everyone, from the receptionist, to the Salesman, to the Finance Manager treated us like we were family and had been going there for years. Every employee spoke in passing, all had smiles on their faces and truly seemed happy to be there. Not so much at other dealerships in the past. After the car was detailed and every document signed we went to take possession of our new baby and the General Manager met us there and thanked us. Never had that happen before. I have since been back to have a few remaining items put on the car and have my "Love" meeting. Was there about 4 hours and, again, everyone was so nice and pleasant. Thank you for your service and your products. We hope that this will be a long and happy relationship. Larry & Vivian Smith, Springville, AL.
---
Make a Dog's Day - Andy A
Subaru is proud to establish the first-ever National Make A Dog's Day October 22nd. As part of Subaru Loves Pets month, we're inviting all dog lovers to do something extra special for their furry best friends. Plus, Subaru will be focusing our efforts on helping the hardest-to-adopt shelter Dogs –those with special needs-find homes. Get ready to fall in love withThe Underdogs. #MakeADogsDay Meet Gabi! Gabi has been at the Humane Society of NWGA (Northwest Georgia) for seven years. If you asked the volunteers to pick their favorite animal at the shelter, Gabi would win hands down. She does not do well with dogs or cats so must be the only animal in an adult only family. She loves people and will bond very quickly to you. Gabi would make someone a great companion. She is waiting patiently for her forever home. If you have room in your heart and your home for this sweet girl then please fill out an adoption application, highlight and right click this link: https://hsnwga.org/adoption/application-for-adoption/?fbclid=IwAR2Ie18p6U3ryKi-niIuIZFTd-waD98xrySl7IJmiRBXE239WP7dpODubiU #MakeADogsDay #SubaruLovesPets #TheUnderdogs
---