Current and Upcoming Events:
Hendrick Subaru is Sharing the Love this Holiday Season, with Stuff the Subarus!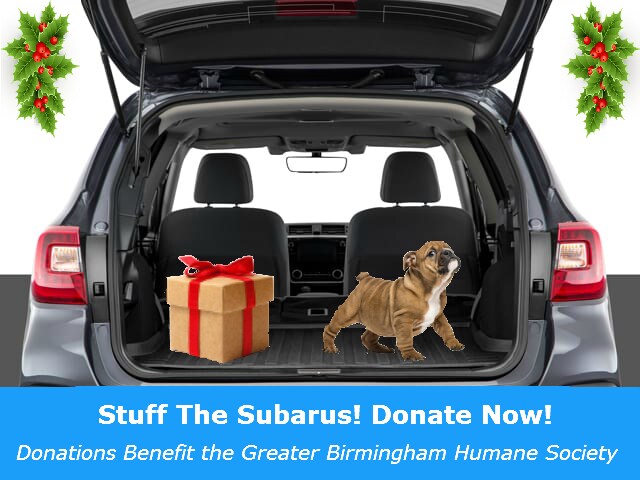 We are collecting donations from our community to benefit the Greater Birmingham Humane Society and help those pet parents in need that may need help with these items for their own furry family. Stop on by and help us "Stuff a Subaru" for all of our furry friends this holiday season!

Items we are collecting:
Dog and Cat food (and treats of course!)
Bedding
Toys
Cat litter
Health care and hygiene (Flea/tick medicine, shampoo etc...)

__________________________________

Subaru Loves Pets
October 2019

We'd like to invite you to Hendrick Subaru to help us support a cause we really care about: keeping animals, including those in shelters, safe and healthy. According to the ASPCA®, approximately 6.5 million companion animals enter shelters each year, which is why we're extending the opportunity to help us make a difference. During the month of October, through the Subaru Loves Pets initiative, we're collecting new pet supplies to donate to local animal organizations in our communities. We're also donating shelter supply kits for our furry friends awaiting adoption-and even starter kits for new pet-adopting families. Subaru announces National Make A Dog's Day, Oct. 22.
Every item makes an impact - drop off your Subaru Loves Pets contribution today and we'll show our appreciation with a complimentary Subaru dog toy, while supplies last!